We have established a long-term cooperation with the leading manufacturers of avionics and other aircraft and helicopter components to be able to deliver turnkey modernisation solutions for Mil helicopters.  Years of R&D, qualified technicians and a profound know-how result in truly functional and unique modernisation capabilities, which were battle tested in ISAF Afghanistan with 100% efficiency and reliaiblity as a result. LOM PRAHA is capable to bring the best of "both worlds" together by combining and succesfuly integrating western technologies into Russian reliable and durable helicopters. We are the only company outside the Russian Federation, which is certified to modernise Mil helicopters by the Mil Design Bureau. 
Advantages and background of LOM PRAHA for modernizations:
We have our own design bureau, airfields, hangars and assembly halls
We are certified by Mil OEM and comply with General Aviation andNATO/ICAO standards
Long-term experiences with Mil platforms and a perfected know-how
References gained by 100% reliability of modernised Mi helicopters in ISAF mission
Relationships with suppliers of technologies, equipment as well as OEMs
Excellent battle-proven and functional solutions at reasonable costs
Modular solutions tailored to client´s demand / operational needs
The primary areas of our modernization efforts concern: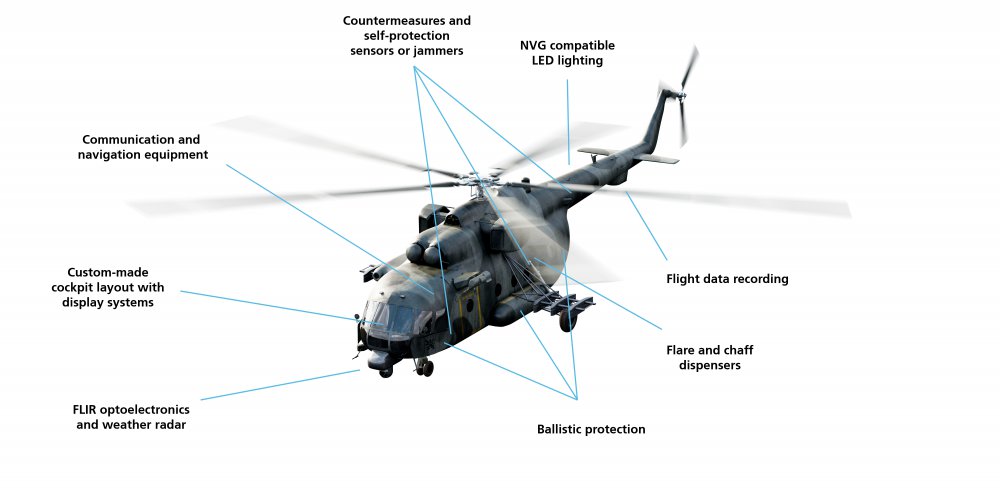 Communication systems (VHF, UHF, SatCom)
Navigation systems (GPS,VOR,ILS,DME, BlueForce)
Identification systems (IFF)
NVG compatibility (both internal and external NVG friendly LED bulbs)
Ballistic protection (cockpit/cargo area/fuel tanks, STANAG lvl I/II)
Active and passive protection (jammers, countermeasures)
Flight data recording systems (CVFDR)
Design and ergonomics of display components (high resolution display systems)
Interior layout and equipment (custom tailored interior and cockpit layouts /VIP/Medevac)
Anti-dust protection of engines (enhanced particle separators)
FLIR observation systems
Fuel supply system (larger tanks)
Special equipment (search lights, external loudspeakers, air-conditioning)
Armament solutions (integration of various weaponry)
Another area that we deal with, is the production of the technical documentation. LOM PRAHA s.p. has longtime experience in management and processing of the technical documentation according to ASD S1000D standard, MIL-STD-38784 specification and according to customer requirements. We use state of the art tools and technology because of management and production of the technical publication.
We offer to:
-       conversion of legacy data into XML language
-       creation of raster and vector (intelligent) graphics
-       writing of working cards
-       creation of spare parts catalog
-       page-oriented publication (PDF format) and frame-oriented publication (HTML format) – IETP (Interactive Electronic Technical Publication)
-       change management and service bulletins
-       management of publication within product life cycle
-       processing and management of TechPubs in CSDB database
Our tools:
-       XML editors (Arbortext Editor/Styler)
-       graphics application (Arbortext IsoDraw 3D CAD Process)
-       S1000D comprehensive system including CSDB database
Leaflet ASD S1000D ENG
Leaflet ASD S1000D