Austrian military delagation visted LOM PRAHA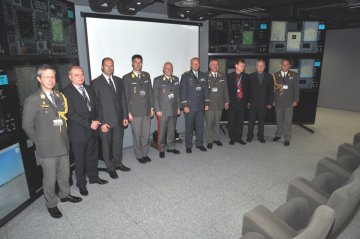 Following to last year´s Virtual NATO Tiger Meet, in which tactical pilots from the Austrian Air Force also participated, LOM PRAHA  was visited by the Chief of Staff and the Air Force Commander of Austria. 
The delegation was welcomed by the Executive Director Pavel Beran, Commercial and Logistics Director Radomir Danhel and the Head of Tactical Simulation Center Jaroslav Sefl. The delegates showed an interest in the fixed wing L-39 training programe and also the potential of the Tactical Simulation Center, which allows simulated training of various tactical and combat situations with the use of armaments and functions similar to a real aircraft. The main advantage of tactical simulated training is the possibility to practice maneuvers and actions, which are otherwise inconceivable due to airspace restrictions and also excellent cost to efficiency ratio compared to expensive training on a real aircraft.