MATC site survey - an eleven member delegation visited CLV Pardubice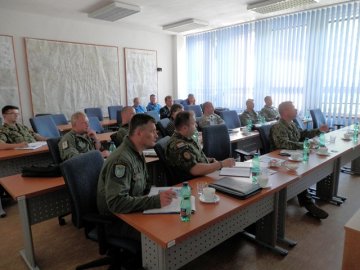 The eleven-member delegation, led by the project team member of MATC (PT MATC) Ing. Otta, conducted a site-survey in the LOM PRAHA Flight Training Center (CLV), which could serve and participate in the MATC programe of shared training capacities. Other members were three delegates from the USA, three from Croatia, one from Hungary (Hungary is considering joining the MATC), two from Slovakia and the Head of OPS / TRG major Ing. Dubec from Náměšt nad Oslavou.
The importance and value of the CLV Flight Training Center, as a provider of practical ground & flight training for Mi-17 helicopters, was expressed by the presence of the General Director of LOM PRAHA Ing.Roman Planička and the Commercial and Logistics Director Ing. Jiří Sauer. After a welcome by the CLV Director Ing. Mareš, the delegates participating in the Site Survey were presented and shown the capabilities of LOM PRAHA, CLV Pardubice and also possibilities and potential in regards to training of pilots and ground personnel of Mi-17 helicopters. The General Director of LOM PRAHA presented a possible future of the Přerov airport (property of LOM PRAHA from the 1st of January 2014), which could be used to support the MATC project. In Přerov, MATC could park and maintain aircraft, conduct training in dusty conditions (dust landing and subsequent takeoff), practice tactics in the urban environment (such as landing on the roofs of buildings, rappelling to the streets), practicing of building outposts & forward bases, flight with night vision (NVG), rehearse SAR operations and much more. The Přerov airport (which would become a detached workplace of CLV Pardubice), would provide accommodation, catering, office spaces, hangars, stands, and other equipment necessary for training. After being presented with the possibilities of the Přerov airport, the delegates visited the classrooms of CLV,  Cockpit Procedures Trainers (CPT), Tactical Simulation Center (TSC) and hangars filled with aeronautic equipment.
From Pardubice the Survey Team continued in their journey through the Czech Republic into Slovakia and ended in Croatia.