Visit of the First Deputy Minister of Defence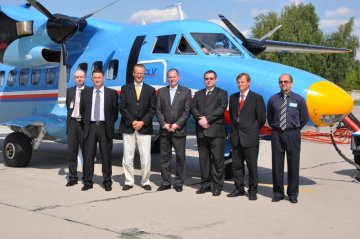 On the 16th of August 2013, the First Deputy Minister of Defence Daniel Kostoval visited LOM PRAHA, where he was greeted by the General Director Roman Planicka and the Commercial Director Jiri Sauer. A meeting followed, where the current state of the company, its capabilties and the ways to expand these capabilties focusing on foreign business opportunities and environments was discussed.  
The visit proceeded by an inspection of the different locations and facilities of LOM PRAHA; especially the Flight Training Center (CLV) in Pardubice, where the First Deputy was introduced to the unique training capabilities of LOM PRAHA and how they can effectively support the MATC project (Multinational Air Training Center).