Chief of the General Staff Petr Pavel visited LOM PRAHA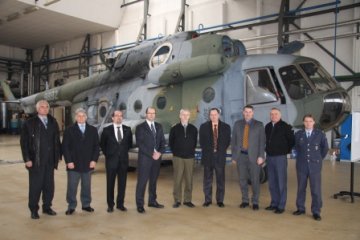 Prague, January 25, 2013: On Friday the 25th January 2013 Chief of the General Staff of Armed Forces of the Czech Republic Lieutenant General Petr Pavel, M.A. visited LOM PRAHA s.e. along with his deputy - chief Brigadier General Bohuslav Dvořák, Director of Operations at the Czech Ministry of Defence. Lieutenant Pavel was informed by management of LOM PRAHA with current projects and strategic direction of the state enterprise.
Part of the agenda was guided tour at repair shops for the overhauls of helicopters and their components in Malešice and Kbely, where he got familiar with the current state of overhauls of Mi-171Sh, which later this year will fly to Afghanistan to perform their operational tasks within ISAF mission.
In the following discussion current issues and future needs and requirements of the Army of the Czech Republic towards the state-owned enterprise were negotiated with respect to the future cooperation opportunities between the Army and LOM. The most discussed issues were specifically utilization of LOM potential in favor of the Army in areas of ​​maintenance, repairs and modernization of aviation technology and cooperation in training of pilots. Questions regarding MATC project aiming international cooperation in the field of training at the NATO countries or future of the helicopter base in Přerov, where LOM Praha sees potential for its further development, were not left aside.