Training of Slovak Fighter Pilots in LOM PRAHA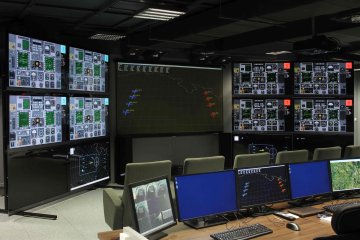 LOM PRAHA conducted through its tactical simulation center in Pardubice specialized course for a group of eight pilots of the Air Tactical Forces of the Slovak Republic and three Ground Control Intercept (GCI) controllers from Command, Control and Surveillance Brigade.
During the five days of the training, Slovak aviation personnel practiced and matured their tactic of air combat missions Beyond Visual Range (BVR) with use of medium and long range missiles, and also the training of standard operating procedures of the NATINADS (NATO Integrated Air Defense System) was included.
During the training course Slovak team had eight tactical flight simulators and two stations for ground control intercept at their disposal. The team took advantage of the modern center of LOM PRAHA to practice guidance of different air combat situations in pairs or larger groups and guiding more aircraft simultaneously. After each air mission the evaluation of the whole exercise with projection of the whole air situation was executed, including all activities performed by pilots in the all eight cockpits and analysis of the cooperation and tactics between the pilot and GCI controller was performed.
Tactical simulation center of LOM PRAHA is a leading modern European center for the training of tactical situations beyond visibility range with support of GCI/ FAC (Forward Air Controller) and other tactical skills devoted to tactical air force pilots.